Street dogs in Palestine have, for many years, been targeted by lethal control; causing pain, suffering and death to these innocent animals. Lateef can be sure that he will not suffer the same fate as he became the very first dog to be castrated and vaccinated as part of PAL's TNVR scheme. From now on, only humane population control will be used in the Palestinian city of Tulkarm. Here were chart Lateef's story.
In February 2015, PAL, in conjunction with Al Najah University, launched Palestine's first locally-run spay and neuter (TNVR) programme for street dogs.  Named "Lateef" (which means "Gentle" in Arabic) by our team, our first patient did incredibly well. 240 dogs will be neutered and vaccinated as part of this pilot programme, which was generously funded by Dogs Trust. Find out more about the scheme here.
Photos: Klaus Petrus/PAL (Special thanks to Network for Animal Protection for supporting the documenting of the programme)
Become an Animal Hero! Save a Street Dog!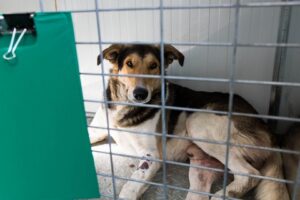 In order to ensure that our work for the street dogs of Palestine can benefit more dogs like Lateef, and continue in the long-term, we need all the support we can get. We would like to invite you to be part of this groundbreaking work – your support will literally be helping to save lives.
Please join our scheme today by making  a donation to save a street dog. You will receive a personalised e-certificate to acknowledge your generous support. You can even make the donation on behalf of a friend and we can make the certificate in their name; making a thoughtful gift for the animal lover in your life*.
---
£24 will pay for one dog to be spayed, vaccinated, health-checked and tagged.
Yes! I want to save a street dog's life! [wp_cart_button name="SASD" price="24.00″ shipping="0.00″]
£50 will pay for a student vet to receive training to learn how to deliver spay and neuter surgery.
Yes! I want to support a young vet's training! [wp_cart_button name="Vet training" price="50.00″ shipping="0.00″]
£500 will fund the scheme for a full week, allowing the treatment of up to 20 dogs.
Yes! I want to fund this groundbreaking scheme! [wp_cart_button name="Fund for a Week" price="500.00″ shipping="0.00″]
---
Become a Regular Supporter
By committing to a regular donation to the Save a Street Dog scheme, you are helping to ensure that we can continue saving dogs' lives long into the future. Choose from an annual gift of £24 or a monthly gift of £2 by selecting one of the options below.
Annual payment of £24 (renews automatically) 
Monthly payment of £2 (renews automatically) 
---
Save a Street Dog Cotton Shopper – £5.00
Proceeds from sales of our "Save a Street Dog" cotton shopper go towards the scheme. Get yours today!
[wp_cart_button name="Cotton Shopper" price="5.00″ shipping="0.001″]
---
Thank you for your support!
If you have any queries about the scheme, please get in touch by emailing palanimalsolidarity@gmail.com. Read more about the project here.
*Simply make include a note at the check-out stage of your order to confirm your friend's name to be included on the certificate. If no notes are included, we will add the payer's name to the certificate.