Young Journalists for Animal Welfare
The "Young Journalists for Animal Welfare" Programme, established between the PAL and three universities in the West Bank, began work in March 2015. The PAL team trained university students to act as mentors in a ground-breaking project which seeks to encourage schoolchildren to identify, understand and tackle animal welfare problems in their local communities by creating child-led campaigns to remedy problems.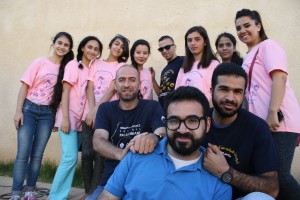 Over 40 university students were trained by the PAL team in leadership skills, concepts of animal welfare science and animal ethics. They also learned how to plan and deliver successful animal protection campaigns. With their new-found skills, the students then passed their knowledge to over 280 schoolchildren, in 14 different schools and community groups throughout the West Bank. The final report from the 2015 activities can be downloaded here.
The International Fund for Animal Welfare has generously funded the continuation of this project into 2016.
Educational Summer Camp and Open Days
Each year, PAL delivers a summer camp for over 150 children in the West Bank. The day-camps focus on delivering key educational messages in a fun and enjoyable setting. Humane education focused on animal welfare and related topics leads to follow-on activities in the local community, involving the same children and supported by PAL volunteers.
Community open days, which offer families the opportunity to learn about animal welfare and vegan and vegetarian nutrition, are held at least once a year. Attended by upwards of 600 people, the days provide an opportunity for young people and their parents to engage with important concepts of animal welfare via fun activities and active engagement.
Can you help us to provide more children with a fun day out and an important educational experience which benefits animals? If so, please donate today or contact us for further funding options