We are delighted to report that PAL has been granted a generous award from leading equine welfare charity, The Brooke. As part of the Brooke's Small Initiative Fund programme, the PAL team will be launching a pilot project to assess and document welfare concerns for working equines (horse, donkeys and mules) throughout the West Bank. The project will engage with local communities to first understand key welfare concerns and then develop community action plans to tackle the issues identified.
Said Liz Tyson, Head of International Relations for PAL:
"We are honoured to receive this important grant from The Brooke, which will allow us to take the first steps towards improving welfare for horses and donkeys in the occupied Palestinian territories. With our dedicated team on the ground and the backing of The Brooke's world-renowned experts in equine welfare, we are confident that this work will have a meaningful impact on the health and wellbeing of a great number of horses and donkeys in the region".
The pilot project is just one of a number of initiatives being developed and delivered by the PAL team in Palestine.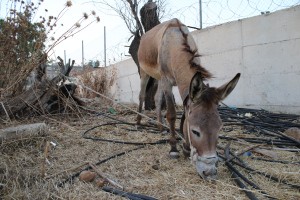 Photos: Copyright PAL/Craig
Redmond