In light of the recent violence in the West Bank and Gaza, Executive Director, Ahmad Safi, writes a personal blog about working for animals at times of conflict. Edited in English by Liz Tyson.
In the last month, 53 Palestinians have been killed in the West Bank and Gaza and more than 1200 injured as a result of recent clashes between illegal settlers and Palestinian civilians and the Israeli armed forces and Palestinian civilians. In Palestine you mark time by wars and intifadas (uprisings). I am five wars and two intifadas old. If the current tensions and frequent clashes do not abate soon, perhaps I will add another intifada to my lifeline. But it doesn't matter how many deaths, how many injuries, how many wars and how many uprisings you survive; you never get used to it.
Since the final days of September, my phone has rarely stopped ringing and I do not dare to turn it off in case the next call is about a family member or a close friend, as it has been too many times in the past. Roads are blocked and travelling from one town to another might take hours, most of the day, or simply be impossible as our rights of movement are swept away by our occupiers. In other cases, we might be free to pass but, with increased clashes between unarmed and vulnerable Palestinians and heavily-armed settlers, simply driving from one town to the next can mean taking your life into your own hands.
Each evening we watch the news, scroll through social media, where we are met with gruesome scenes of innocent children executed in the street, young men fighting armoured tanks and machine guns with pebbles and elderly people – lynchpins of their families – being overcome and dying from tear gas inhalation. Funerals, one after the other, pass through our towns and cities. Sometimes the shrouds are tiny; enveloping children, others bearing the bodies of pregnant women, mothers, fathers, sisters, brothers, sons.
As I get older, my concern for the situation, for my people, has only become stronger. Not least now because I am a father; my three daughters, my mother and my loved ones are never far from my thoughts during these times of unrest.
People ask my colleagues and me regularly: "don't you have enough to worry about without being concerned for animal rights?" and in the dark days we are experiencing right now, I cannot blame them. It would be easy to be paralyzed by what is going on around us and to put everything else to one side while we wait for it to end and calm to resume once more. But, despite everything, life goes on and we are not the only ones in need. We only need to look around to see that, in the midst of all of the chaos surrounding us, we can still make a positive impact on others; human and animal.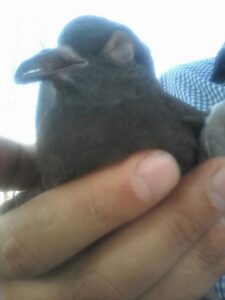 During a protest in the last few weeks in Ramallah, one of our team members was caught in a crowd of people who had tear gas thrown at them by the armed forces. He was trying to get away from the cloud of chemical gas and saw a small body lying on the ground. He scooped the little being up and ran with her to the nearest ambulance. Not a child, but a little pigeon, who we named Selma, had been hit by flying glass and badly affected by tear gas. Both eyes were swollen and closed and one of her wings was hanging limply by her side. The paramedics gave the little bird oxygen and she came around. Bundled up in the warmth of a shirt, Selma was taken away from danger and to my home where she spent the evening being nursed by my family and me.
Over the next few days, she began to regain strength and confidence and her eyes opened again. Not yet confident enough to fly, I sat with her and my young nephew on the roof of my family home and watched her cautiously socialize with the local birds. A week later and she still hangs back – I wonder: Is she traumatized from her experience? Did she have her own friends and family who she is thinking about? Is she confused as to why she is here in this new place, with birds she doesn't know? I cannot know what she is thinking but she is becoming friendly with me and my nephew and her wing is improving and she can now use it well. So far, she has chosen to stay, perhaps she trusts us – I hope she feels that she can.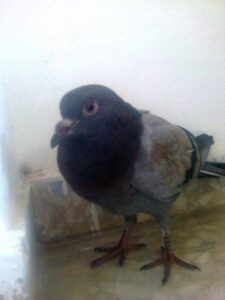 It is not just Selma who was saved that day, my friends and I helped to pull injured people to safety after the army opened fire. They too, like Selma, will be nursed back to health by their family, friends and community. And this is perhaps one of the few positive things about the ongoing occupation and oppression of my people; we have learned to look out for one another. We have learned to look around and see who needs our help and we have learned to give that help as best we can. In return, we can be safe in the knowledge that if we need the support in the future, it will be there.
And it is for this reason that I was not surprised at all that, during these days of unrest, our amazing PAL volunteers continued to contact me to find out what they could do to help. If they couldn't travel safely from where they lived, they wanted to support us with research or office work. Those who could travel came with us to visit farmers who needed advice on how to care for their horses. In order to do that, our volunteers sat patiently at checkpoints and they took lengthy diversions in order to arrive safely and to get the job done.  Standing in the sun, drinking tea with an elderly farmer as our talented student vets checked over his donkey and gave him advice on how to better care for him, it is easy to forget that we live in a place marred with conflict. Because what I felt at that point was pride and hope. Pride in the young people who are working so hard to foster compassion and caring in our society and hope that these young people are our future leaders. It made me happy to think that, if we can still do some good, however small, in these challenging circumstances, just imagine what we can do, for animals and people, if we finally see peace in Palestine.
What led me to write this piece is that one of the strongest ideas behind PAL is that our work is not just about helping animals, but about helping to build the state and society that we have been fighting for since 1948. We cannot wait for the occupation to end before we begin to build the future that we envisage for ourselves, our children and our children's children. Amidst the dust of war and the cries of the injured, there must also be the voices of hope and a will not just to survive, but to thrive. And, in a small way, this is how I see our movement for animals and people. If all you hold at any one moment in your life is the small, unconscious body of a bird, then fight for her and do all you can to help her. In this way, and by reaching out our hands and helping others, we will build a state that we are proud of and one that is worth our continuing struggle against oppression of all forms.
Despite the challenges that we are currently facing, all of our supporters and friends can rest assured that, as long as it is safe to do so, our work for animals and people will continue.