2015 has been a busy and successful year for both the Palestinian Animal League (PAL) and its international partner organisation, Palestinian Animal League Solidarity (PALS). Here we share with you our key achievements of the year; none of which would have been possible without your ongoing support. Thank you to all of you who have supported our work for people and animals in Palestine during 2015; we hope that you will continue to work with us in the coming years, as the animal protection movement in Palestine continues to go from strength-to-strength.
January
January saw the birth of the UK-based group, PALS; whose specific aim is to support and promote the work being carried out by our Palestinian team.
The inaugural activity carried out by PALS was the organisation of a "Speaking Tour" of the UK, with the Executive Director of PAL, Ahmad Safi, speaking to audiences about his team's work for animals and people in the West Bank. The tour was comprised of five public events held in major cities around the UK (London, Brighton, Manchester, Leeds and Colchester) where presentations were given about PAL's work, merchandise was sold and information and literature were distributed. The talks provided an excellent platform for awareness-raising surrounding PAL's work.
In addition to the public talks carried out, the team attended a number of meetings with leading animal protection groups in the UK, with a view to introduce the work of PAL to them and to establish working relationships with them. All meetings were extremely beneficial and some led to extremely valuable working partnerships.
This trip was made possible by generous donations from PAL supporters around the world.
February
In February, PAL spoke out regarding global news reporting surrounding the deaths of animals in a zoo in Gaza. Highlighting the importance of tackling human and animal rights issues in tandem, the article was read around the world and sparked lively debate.
March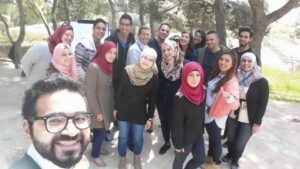 In March 2015, PALS International Director, Liz Tyson, travelled to the West Bank and volunteered with the PAL team for a month. During her time there, she trained volunteers and gave lectures surrounding animal welfare, animal ethics, animal welfare law and campaigning and advocacy to students at two major Palestinian universities (Al Quds and An Najah). During this month, work began on carrying out initial stakeholder engagement and research towards the development of a humane spay and neuter scheme for street dogs in Palestine; to be implemented later in the year.
April
In April, PAL worked with local authorities in Gaza to help to facilitate the rescue of two lion cubs being held in a private home. The cubs were eventually moved from the refugee camp where they were being kept to Jordan. The PAL team was pleased to be able to play a part in ensuring the animals were taken to safety later in the year but raised concerns that the root of the problem – the commercialisation of wild animals – still needs to be addressed within the region.
PAL volunteer, Sandra Soto, helped to raise awareness for the organisation as she gave a presentation at the World Vegan Summit and Expo in California, US. Delivering PAL's message to an international audience is a vital part of PAL's work.
May
May saw the end of the first phase of PAL's ground-breaking "Young Journalists for Animal Welfare" programme; a scheme which empowers young people and children to make positive changes for animal and environmental protection in their own communities. So successful was the programme that it caught the attention of the International Fund for Animal Welfare (IFAW), who kindly funded it into its second year.
During May, the team worked hard on developing and writing the materials which would go on to form the Best Practice Manual for the Humane Management of Street dogs in Palestine. At the time of writing, the main form of management of street dogs is lethal control – either shooting or poisoning – so it is vital to introduce humane practices as soon as possible. The documentation developed as part of this programme is the first of its kind in Arabic. Work was carried out from May onwards to secure funding to deliver the programme on the ground.
June
In June, an educational open day was held for families and children in the major Palestinian city of Ramallah. Over 600 people came along to the day which focused upon raising awareness of the importance of animal protection, as well as promoting a healthy vegan diet.
PALS Trustee, Craig Redmond, also visited the West Bank for a fortnight during June. Craig worked with students from Al Quds University in the development of photographic projects as a means to tell stories surrounding animal welfare in a local context. The photographs taken during his trip have helped PAL and PALS to promote its work to a wider audience.
PAL team member, Mai Farsakh, travelled to the US in June to take part in the Resistance Ecology Conference. Joined by US-based, Bina Ahmad, she gave a fascinating presentation focused upon the crossover of issues surrounding human rights, animal rights and environmental protection in the occupied Palestinian territories.

Animal Liberation & Palestine Pt. 1: Lifting the Veil from Burning Hearts Media on Vimeo.
July
PAL was delighted to receive funding from UK charity, The Brooke, in support of a new project focused upon horse and donkey welfare in the West Bank. Equines are used extensively in the region and PAL's new project seeks to first identify, then tackle, welfare issues that arise from this practice.
August
In August, the PAL team conducted the first census of the stray dog population in the major Palestinian city of Tulkarm. It is in Tulkarm that the first spay and neuter programme for street dogs will be piloted and this important work was the final stage of preparation. A group of volunteers; mainly from Al Najah vet school, spent three nights working hard on the streets of Tulkarm. Results showed that there were over 1,100 dogs living on the streets in the city.
September
In September 2015, the PALS and PAL teams met at the International Animal Rights Conference in Luxembourg. Team members, Ahmad and Liz, gave a joint presentation on human rights and animal rights in the occupied Palestinian territories. The presentation was well-attended and feedback was extremely positive.
Later in September, PAL was absolutely delighted to secure vital funding to deliver its planned humane spay and neuter programme for street dogs, thanks to a generous grant from UK-based charity Dogs Trust. Work began immediately on planning, with the first dogs due to be treated in January 2016.
In late September 2015, PALS International Director, Liz, returned to the West Bank in order to volunteer with the team in the development and stakeholder engagement for PAL's recently-funded horse and donkey welfare project. From these initial meetings, a long-term strategy was developed, ready for implementation from November onwards.
In the final days of September, five of PAL's final year vet student volunteers were given the opportunity to go to Jordan to be trained in humane animal capture procedures. The training was organised by PALS with funding from Dogs Trust UK and was carried out in late September. The Dogs Trust provided a specialist consultant to work with the young vet students ahead of the implementation of the spay and neuter programme.
October
Work began in Palestine on the horse and donkey project; with the project teams planning their timetables and taking part in training on delivery of participatory, community-based project management.
PAL's Best Practice Manual for Humane Management of Street dogs and accompanying educational materials were officially launched in a meeting with six local municipalities in the West Bank. Four of the local authorities have expressed interest in working with PAL to develop humane stray control methods, with work due to begin in Tulkarm in early 2016. The Ministry of Agriculture for Palestine gave its formal endorsement of the resources and highlighted its support for a move to non-lethal control of street dogs.
PALS Trustee, Craig Redmond, travelled to Milan, Italy in October 2015 to give a joint presentation with PALS' Italian country representative, Francesca, on the work of PAL at the MiVeg Festival. The talk was well-received and resulted in media coverage in Italy, including four radio interviews. In addition to the work outlined, connections were made throughout the year with a number of people in different countries. This led to the appointment of country representatives for Poland and France during the same month.
November
In November 2015, an in-depth interview with Ahmad Safi and Liz Tyson was published in Polish magazine, VEGE. The six-page piece was organised by PALS' Polish country representative, Marta Mikita.
Other media coverage included radio interviews in Australia and a number of articles published by online news outlets in Italy, Poland, Brazil and the United States. PAL and PALS team members were involved in a total of 20 events across Europe throughout 2015. The hope is that this number will increase in the coming years.
December
By mid-December, the purpose-built recovery suite for the dogs to be treated as part of PAL's spay and neuter programme was almost complete. Custom-built to meet the welfare needs of the dogs while they recover from surgery, the suite will be installed in the final days of the year on the campus of Al Najah vet school – where it will form part of an important training facility for student vets in Palestine.
In the second week of December, PAL launched a new hard-hitting campaign to demand that the Dutch government brings an end to the export of "attack dogs" from the Netherlands to Israel, where the dogs are then used against Palestinians. PAL joined calls made by human rights organisations to end the practice, and also sought to highlight the impact that the cruel use of animals in this way has on animal welfare; both in relation to individual animals and societal treatment of animals more generally. The campaign resulted in widespread media coverage and it is hoped that this issue being highlighted will help to pressure the Dutch government to take decisive action on the matter. You can support the campaign by signing the petition.
***
As the year draws to a close, we would like to say a huge thank you to everyone that has made our work possible. For those who have given up their time (both in Palestine and abroad), for those who have made donations or bought our merchandise, for those who have attended our events and for those who have shared our stories and helped us to raise awareness. Thanks to you all, we are looking forward to another hugely successful year working for people and animals in Palestine. Thank you.