In our next "Meet the Team" interview, we talk to Wasseem Tahboub. Wasseem has worked with us for over a year as a volunteer and has been a key member of the team in the development of the spay and neuter scheme for street dogs. Wasseem received specialised training in September last year on humane trapping and release of street dogs and his new-found skills will be put to use in the coming months as our TNVR programme enters the surgery stage. Last year, Wasseem was appointed the Animal Welfare Committee Chairman for the International Veterinary Student Association (IVSA) – a testament to his hard work for animals. Find out more about Wasseem…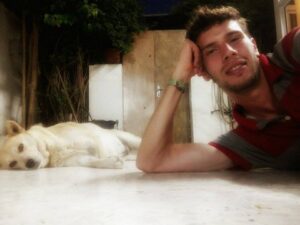 How did you get involved in PAL?
Well, PAL team visited the veterinary medicine faculty of An-Najah National University. They wanted to establish an understanding in order to support each other to achieve a better animal welfare in Palestine. I was one of the students who attended the meeting which took place more than a year ago. I got a chance to introduce myself as well, spoke on behalf of the other students and expressed our willingness to be involved and help with their work.
What is your role in the organization and what does that entail?
Nowadays, I'm a part of  the TNVR Project for stray dogs as a last year veterinary students, helping  the team to organise and the preparation for the project.
Tell us about the activities that you plan to be involved in in the coming year.
The upcoming year will be very challenging for me. A lot of changes will take place. I will be graduating which means I am going to apply for my veterinary license. At the same time, I won't ignore PALS or its projects. I will be involved and help with everything they will need me for, the control of stray dogs mainly. Any other program that will rise which will beneficial for the animal health and welfare will be on my list to do.
You are working for animals in a time when there are huge challenges being faced by the people of the occupied territories. Does this make your work more difficult?
In general, working with animals is never easy, even under normal circumstance. So imagine when it comes to a very sensitive situation that we have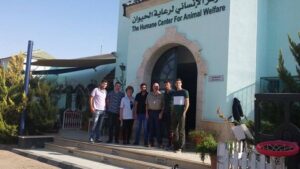 in the occupied territories, it definitely is harder because of the Israeli occupation that limit our work in every aspect of our lives; Yet, there is no reason enough to give up on our work as students, veterinarians or project leaders. On the other hand, we encounter some challenges from the local Palestinian community where we will educate them about how important animal health and welfare is
I like to be a part of the solution, not the problem!
Tell us something interesting about yourself!
I love dogs! I adopted some dogs through my life, the last one was a puppy when I found her being dragged by couple of kids in the street. Now she is 9 years old and takes her role as protector of me and my family very seriously. I love working with small animals (particularly dogs and cats). In addition, I've volunteered in a lot of programs locally and internationally including various topics as well. And I believe I can give more, and that's what I will do 🙂