Warning: This report contains a photograph which our readers may find upsetting.
Since early last year, PAL has been working to combat the problem of street dogs in Palestine and has succeeded in developing the region's first spay and neuter programme for strays. Prior to PAL's work on this issue, dogs were killed indiscriminately by local authorities – by using either poison or live ammunition. Since then, two major cities, Tulkarm and Ramallah, have agreed to work with PAL to ensure that this practice, which causes immense suffering to dogs, is brought to an end and replaced with humane methods.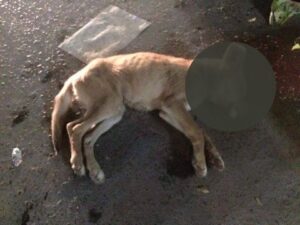 But while the safety of street dogs in the cities of Tulkarm and Ramallah is now improving as the project develops, shocking photographs taken in the municipality of Jericho in the last few days have shown just how much work remains to be done. In Jericho, following complaints made to the local authorities by members of the public concerned about their safety around the strays, the municipality lay down poison. The heart-breaking result was dozens of dead dogs and puppies.  Harrowing pictures of the animals were shown on local news sites in Palestine this morning.
Whilst it is too late to save the poor dogs already subjected to this treatment, on seeing the reports, PAL made immediate contact with the head of the Municipality of Jericho. Explaining that not only does the method currently being employed lead to immense pain and suffering for the dogs involved, PAL's Director told the municipality representative that killing strays will make no impact on the population problem in the long term. Highlighting the failure of lethal methods previously used in other areas of the West Bank and the success of trap, neuter, vaccinate and release (TNVR) schemes, the premise of the PAL project was outlined during the call.
After a discussion, we are absolutely delighted to report that the Head of Municipality has agreed to bring an immediate end to lethal control of dogs and an emergency meeting has been arranged to discuss humane alternatives.
Said Ahmad Safi, Executive Director of PAL:
"Until we began to properly research and spend time developing effective alternatives to killing of stray dogs, it was genuinely believed by many authorities that there was no other option. Our work already carried out in Tulkarm and our ongoing discussions in Ramallah have shown that this simply isn't the case. The situation will not change overnight but it is imperative that dogs are no longer made to suffer unnecessarily. We are delighted that we will now have the opportunity to work with the municipality of Jericho and, most importantly, that we have secured a commitment to bring an immediate end to the poisoning of innocent dogs".
In addition to Jericho, the Municipality of Hebron has also agreed to move away from lethal control and is exploring a humane approach to street dog management.
---
Become an Animal Hero! Save a Street Dog!
Right now, our scheme is running in Tulkarm, with plans to expand to Ramallah in the coming year. As more areas ask us for help, we need you to help us to meet the demand! In order to ensure that our work for the street dogs of Palestine can benefit the most individual animals possible, and continue in the long-term, we need all the support we can get. We would like to invite you to be part of this ground-breaking work – your support will literally be helping to save lives.
Please join our scheme today by making  a donation to save a street dog. You will receive a personalised e-certificate to acknowledge your generous support. You can even make the donation on behalf of a friend and we can make the certificate in their name; making a thoughtful gift for the animal lover in your life*.
---
£24 will pay for one dog to be spayed, vaccinated, health-checked and tagged.
Yes! I want to save a street dog's life! [wp_cart_button name="SASD" price="24.00″ shipping="0.00″]
£50 will pay for a student vet to receive training to learn how to deliver spay and neuter surgery.
Yes! I want to support a young vet's training! [wp_cart_button name="Vet training" price="50.00″ shipping="0.00″]
£500 will fund the scheme for a full week, allowing the treatment of up to 20 dogs.
Yes! I want to fund this ground-breaking scheme! [wp_cart_button name="Fund for a Week" price="500.00″ shipping="0.00″]