A team of local Palestinian animal advocates from NGO, Palestinian Animal League (PAL), have this week launched the country's very first spay and neuter programme to save the lives of street dogs in the region. The scheme's very first dog, named Lateef (meaning "Gentle" in Arabic) by the PAL team, was successfully vaccinated, neutered and released at the beginning of this week. As part of a pilot project, PAL hopes to neuter and vaccinate up to 240 dogs living on the streets of the Palestinian city of Tulkarm. The scheme seeks to bring an end to the current lethal control methods, including poisoning and shooting, used to manage the street dog population in Palestine and to see humane control methods implemented in their place.
The project took almost a year of planning before it could get off the ground and involved the team solving complex problems, including how to import equipment and medications; a process which is severely restricted due to the Israeli government's control over the occupied West Bank. The volunteer team made up predominantly of veterinary students from Al Najah University, also hit trouble when trying to carry out an initial count of the stray dogs in the city to establish
population densities. The count needed to be carried out at night, when the street dogs were most active and, despite the students wearing distinctive high visibility jackets identifying them as NGO workers, one group was made to leave the area by members of the Israeli armed forces. For their own safety, the team abandoned the count that night but returned the following evening and succeeded in gathering the necessary data.
Said PAL's Executive Director, Ahmad Safi:
"We are delighted to have been able to launch this important programme which will save the lives of hundreds of street dogs previously under threat from lethal shooting or poisoning. We are also very proud to be implementing the very first locally-run programme of this kind in the Middle East. The conditions in which this project has come to fruition are complex, to say the least, but it is testament to our dedicated team that even in an area marred with conflict, it is possible for members of society to come together to improve life for animals".
PAL's hope is that the pilot project currently underway in Tulkarm will be expanded to include other major Palestinian cities, including the administrative centre, Ramallah.
Mr Safi added:
"We firmly believe that this is just the beginning and look forward to expanding the programme to other areas of the region".
Read Lateef's full story here.
PAL is working in conjunction with Al Najah University and the Municipality of Tulkarm. The pilot project received generous funding from UK-based charity, Dogs Trust.
Become an Animal Hero! Save a Street Dog!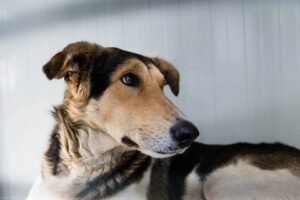 In order to ensure that our work for the street dogs of Palestine can benefit more dogs like Lateef, and continue in the long-term, we need all the support we can get. We would like to invite you to be part of this ground-breaking work – your support will literally be helping to save lives.
Please join our scheme today by making  a donation to save a street dog like Lateef. You will receive a personalised e-certificate to acknowledge your generous support. You can even make the donation on behalf of a friend and we can make the certificate in their name; making a thoughtful gift for the animal lover in your life*.
---
£24 will pay for one dog to be spayed, vaccinated, health-checked and tagged.
Yes! I want to save a street dog's life! [wp_cart_button name="SASD" price="24.00″ shipping="0.00″]
£50 will pay for a student vet to receive training to learn how to deliver spay and neuter surgery.
Yes! I want to support a young vet's training! [wp_cart_button name="Vet training" price="50.00″ shipping="0.00″]
£500 will fund the scheme for a full week, allowing the treatment of up to 20 dogs.
Yes! I want to fund this groundbreaking scheme! [wp_cart_button name="Fund for a Week" price="500.00″ shipping="0.00″]
---
Become a Regular Supporter
By committing to a regular donation to the Save a Street Dog scheme, you are helping to ensure that we can continue saving dogs' lives long into the future. Choose from an annual gift of £24 or a monthly gift of £2 by selecting one of the options below.
Annual payment of £24 (renews automatically) 
Monthly payment of £2 (renews automatically) 
---
Save a Street Dog Cotton Shopper – £5.00
Proceeds from sales of our "Save a Street Dog" cotton shopper go towards the scheme. Get yours today!
[wp_cart_button name="Cotton Shopper" price="5.00″ shipping="0.001″]
---
Thank you for your support!
If you have any queries about the scheme, please get in touch by emailing palanimalsolidarity@gmail.com. Read more about the project here.
*Simply make include a note at the check-out stage of your order to confirm your friend's name to be included on the certificate. If no notes are included, we will add the payer's name to the certificate.
Photos: Klaus Petrus/PAL (Special thanks to Network for Animal Protection for supporting the documenting of the programme)