PAL has, today, praised the civil guard in the Palestinian city of Hebron after they rescued and treated a dog who had been hit by a car. The little dog was taken in and cared for by members of the civil guard when they witnessed him being hit by a moving vehicle. His injured leg was cleaned and bandaged after he sustained an injury.
Executive director of PAL, Ahmad Safi, said:
"This small act of kindness may have meant the difference between life and death to this dog – if his wound had not been cleaned and dressed, it could easily have led to infection and far worse suffering. We feel that it is important to recognise and acknowledge these acts of kindness to encourage more people to do the same. It is easy to criticise or raise concern when something goes wrong, but we want to make sure that we are also giving praise and credit when it is deserved".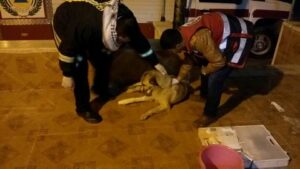 Photos: Palestinian Civil Guard