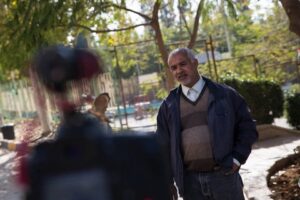 Our newest "Meet the Team" interview is with Dr Belal – lead vet on our spay and neuter programme run and managed in conjunction with Al Najah University in Tulkarm, where Dr Belal works full time in teaching veterinary medicine.
You are the lead vet on the joint TNVR project between Al Najah University (ANU) and PAL. How did you get involved in doing this work?
First and foremost, I'm veterinarian,  so I feel I have a vocation to relieve pain and protect animals from diseases and disasters  I love my work and it makes me so happy to be able to help animals . In  2012 the Animal Welfare Committee at Al Najah University, where I work, made a decision to try and tackle the stray dog population in Palestine in an ethical manner. But since that time, while we delivered numerous workshops and presentations, the project did not develop due to lack of funding and logistical support; in part because of the political and economic situation in Palestine. But we refused to give up and continued to communicate with international organisations in our attempt to gain support. Sadly, all the responses were negative due to political issues. Then, in the middle of 2013, we first made contact with PAL and their involvement has been so incredibly valuable. We have worked hard together and not only managed to gain financial support for the project, but also overcome all of the logistical obstacles in our way and gain the backing of the Governor and Mayor of Tulkarm, both of whom have given the project their full support.
Finally, the project that we have been working towards for so long is a reality. We are confident it will be a huge success.
Your department has offered free veterinary care to animals in need since 2005 – can you tell us more about this initiative?
In my role as the Head of Small Animal Medicine and Surgery at Al Najah University, being able to offer free veterinary care to animals not only helps the animals but allows my students to learn about animal restraint, medical treatment, surgical treatment and so on. As part of this work, we help animals who have been injured or suffering illnesses, as well as being able to offer free care to animals whose owners might not be able to afford vet bills.
The TNVR programme has just launched and seems to be going well – how do you see this work developing in the future?
Trap, Neuter, Vaccinate and Release (TNVR) is, in my opinion the only humane way in which to deal with stray animal populations. Not just this, but the lethal control that has been used in Palestine until now has not only caused huge suffering to dogs and other animals, but it has also been completely ineffective at controlling the stray population.
Since we began to publicise the news about this programme, we are increasingly being contacted by other municipalities in Palestine who want to be involved. So I feel really confident that this will continue to grow and be a success.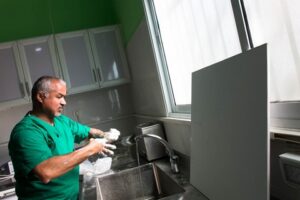 You are working for animals in a time when there are huge challenges being faced by the people of the occupied territories. Does this make your work more difficult?
Yes this true we are under occupation for 68 years and so many generations of Palestinians under the violence of occupation ( killing, arresting, check points, the apartheid walls and discriminatory and restrictive and policies). As people in Palestine, we don't have even the minimum degree of human rights but we are still human. We love life, believe in peace and continue our struggle to fight the brutal occupation in several different ways. Even while Palestinian people do not have their own rights respected, we can and will continue to foster a culture of compassion, mercy and caring towards animals.
What are the main animal welfare problems you encounter working in Palestine? Are they different to those that you have experienced when working in other countries?
We face big problem here in terms of animal welfare. First and foremost, the constitution doesn't have any serious laws or regulations which are concerned with animal welfare. This put us in a critical situation whereby we have to focus upon education and community-led initiatives to improve welfare for animals. Secondly, the relationship between animals and humans has historically been restricted to people's use of working animals but there isn't really a culture of keeping pets here so people can find it difficult to relate to animals. Over the last decade, there has been a rise in the keeping of cats and dogs as pets, and this has led to people becoming more interested in animal welfare, which I think is a very good thing.  Finally, our access to equipment, medicine and vaccinations required to carry out our work is heavily restricted due to the occupation. In addition, the equipment and medications available to us are usually far more expensive here than elsewhere. This has an obvious impact on our ability to tackle animal welfare issues.
Despite these challenges, we continue to work to make Palestine a better place for both animals and people to live.
Tell us something interesting about yourself!
I spend most of my time dealing with animals, but when I am not working, I like fixing things, reading and music. To be honest, I am happiest when I am in my surgery, looking after animals.
Photos: K.Petrus