Lucy is a Palestinian street dog who has had a difficult time. She used to live with a pack of dogs in an area of empty land in the Palestinian city of Tulkarm. Lucy was calm and friendly but other members of the pack were aggressive towards people, leading to fear of them among the local community. The dogs would bark, and sometimes even attack people; particularly after dark when the animals were more active. As a result, people's treatment of the dogs became harsher and they were chased away from the land. When this happened Lucy, who was heavily pregnant at the time, became separated from her pack mates and gave birth alone.
Now, without her pack mates around her, Lucy had to fend for herself and her three daughters. She would go to the local market and steal food – becoming fierce and aggressive in order to protect her children. The locals understood her plight and didn't want to hurt her or her puppies, but they were becoming increasingly scared of her unpredictable and aggressive behaviour.
Some weeks after her puppies were born, Lucy moved into the garden of a house where an elderly lady, Hassania Ashqar, lived alone. Lucy would not allow Hassania to leave the house without barking and trying to attack her. Hassania was scared of Lucy but did not want to hurt her so she took the incredible step of leaving her home to allow Lucy to be there. Hassania moved in with her family, allowing Lucy to stay with her puppies where she felt safe. After a few weeks, Hassania needed some things from her home and asked her grandson to go and collect them for her. She hoped that Lucy would not be there and told her grandson to be careful; telling him not to enter if Lucy was around. Unfortunately, Lucy saw the boy before he saw her and attacked him, tearing his trousers but, thankfully, not hurting him. The family decided at this point that something needed to be done about Lucy and called the Civil Guard to help.
Knowing that PAL and Al Najah University were working on the spaying and neutering of street dogs, the Civil Guard called the team and asked them to help. Still, after all the trouble she had caused, nobody wanted to see Lucy hurt but things could not go on as they were.
Within an hour of the call, the PAL and Al Najah team were at the site and, due to Lucy's extreme aggressive behaviour, they had to sedate her for her own safety and that of our team. Once sedated, Lucy and her three daughters were taken to the clinic and given a thorough health check. Amazingly, perhaps because she felt safe and secure, Lucy's behavior changed overnight. She became calm and friendly; it seemed that, as long as she knew her puppies were okay, she didn't feel the need to behave aggressively. The puppies by this stage were around three months old, and were therefore old enough to be neutered along with their mum. The surgery was carried out and the dogs vaccinated and cared for at the
clinic.
Now in recovery and being cared for by the PAL and Al Najah team, the four dogs will soon be released. Normally, dogs are released into the same area in which they were trapped but, for Lucy and her daughters, this won't be possible. We don't want her to return to Hassania's home and so a suitable site will be found for her to live safely with her family.
Since Lucy was brought to the clinic last week, Hassania has been able to move back into her home after a whole month away.
Ahmad Safi, Executive Director of PAL, said: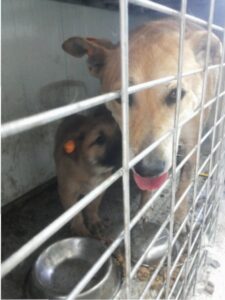 "We were astounded when we heard about Lucy and the way in which Hassania and the local community were so determined that no harm should come to her and her puppies, despite her reign of terror over local residents. The fact that Hassania decided to leave her home while the problem was resolved rather than take matters into her own hands is incredible. Few people would have had the patience and show the compassion that she has. I am so pleased that our team has been able to help to achieve a positive outcome for Lucy, her puppies and, of course, Hassania".